Our Food
Our food is made from scratch, including our pitas that are baked and delivered daily from John's Pita Bakery in Wichita, KS. Each ingredient is carefully prepared, from the fresh chickpeas that go into our creamy hummus to the freshly carved meats from our traditional rotating spits, serving each customer full-flavored, authentic, and healthy Mediterranean cuisine.
We start with thinly sliced, fresh beef rounds, traditionally seasoned and marinated in lemon and garlic, which is then hand-stacked onto a rotating spit, slowly cooked and roasted to perfection. Our pitmasters let the heat break down the connective tissue of the meat, making it tender while the natural fat slowly renders, ensuring each bite is juicy and flavorful. The exterior of the meat crisps just a little bit, providing rich textural contrast.
Delight in our white-meat chicken shawarma, marinated with a special blend of mild spices and seasonings and hand-carved right off the spit. Whether you like your meat wrapped in our fresh pitas, in build-your-own rice bowls, or on top of our famous hummus, you'll surely get a succulent taste of the Mediterranean.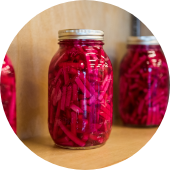 Quality Ingredients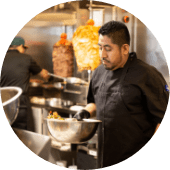 No Shortcuts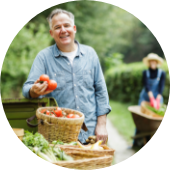 Supporting Local Producers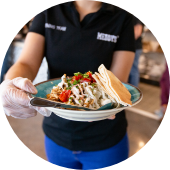 Served Fresh & Quick